CultureMad Lifestyle Magazine – WOMADelaide 2016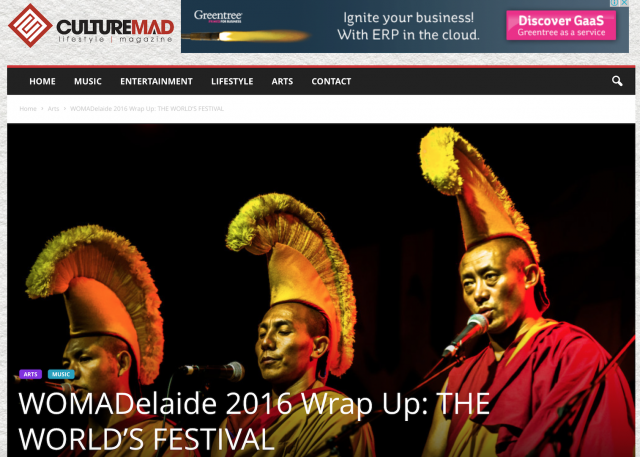 WOMADelaide 2016's spectacular lineup of music, dance, talks and workshops featured acts from a diverse range of genres, crossing the globe from Colombia to Canada and India to Iran.
Highlights include Bollywood singer Asha Bhosle, Angelique Kidjo performing with the Adelaide Symphony Orchestra, Nigeria's Afrobeat Orchestra Seun Kuti and Egypt 80, Adelaide's exceptional Australian Dance Theatre, the explosive politically charged Asian Dub Foundation, eclectic USA band Calexico as well as the alternative rock trio the Violent Femmes.
The festival was further enhanced this year by a visit from the Gyoto Monks Of Tibet.
The Australian music scene was well represented with crowd favourite Husky, The Strides, Adelaide's own folk-blues band the Wasted Wanderers, Kev Carmody and the exceptionally talented indigenous dance troupe Djuki Mala from Elcho Island and more.
An early favourite was Israel's Esther Rada with her accomplished ensemble whose tight Ethio-funk set, enhanced by flute, keyboard and sax, had the crowd grooving despite the sweltering temperatures and high humidity.
The a cappella harmonies of Ladysmith Black Mambazo are as rich and resonant today as they were in the eighties with Paul Simon on the Graceland tour, the crowd responding rapturously to the song 'Homeless' made famous by that liaison. The agile all male ensemble dedicated their song 'Long Walk  to Freedom' to the memory of the late Nelson Mandela and South Africa's journey towards Democracy.
Canada's Jerry Cans hail from the Arctic Circle bringing with them their high energy alt-country set featuring original songs from their 2012 Debut album which includes lyrics in the recently revived indigenous language Inuktitut, as well as throat singing. Band member violinist Gina Burgess explains, 'Throat singing in the Inuktitut culture is traditionally a female only custom and is used as a game of call and response at close range, open mouth to open mouth. With training and practice, a range of different sounds can be produced in the throat and chest.' The Jerry Cans also took part in one of WOMADelaide's many workshops, including 'Taste the world', where guest artists take up cooking utensils in place of musical instruments and prepare a favourite dish from their place of origin, sharing stories as well as recipes with the audience members.
The 'Planet Talks' line up this year included environmentalist David Suzuki, broadcaster and author Indira Naidoo and economist Ross Garnaut participating in live, audience interactive conversations about sustainable gardening and climate change.
As one wanders from one stage to the next, the glorious Adelaide Botanic Park is peppered with stalls offering delicious taste sensations from around the world; Morrocan, Afghani, Indian to name but a few, but if you want to try a famous Byron Bay organic doughnut I suggest you jump in the queue early before they sell out of their popular scrumptious jam or chocolate filled fare.
Handmade leather goods, clothing, jewellery and natural skin care products are all for sale, or perhaps a massage appeals.
This years roving acts included the delightfully endearing housekeeping antics of an acrobatic duo from British ensemble Acrojou in the 'Wheel House', a rotating wordless presentation which rolled through the park.
The atmosphere at WOMADelaide brings visitors together to share in a joyful cultural experience. There are members of the community of all ages gathered on rugs under the trees, tiny babes in arms, toddlers and children enjoying the Kidzone activities and families jumping together on this year's inflatable masterpiece 'Sacrilege', a Stonehenge replica bouncy castle. Sustainable waste management is an important item on the festival agenda with all organic waste generated by WOMADelaide composted and delivered back to be utilised by Botanic Park.
What more could you ask for?
There is an incredible variety to choose from but don't worry if you suffer from FOMO, you'll work it out as I did at WOMADelaide.
Whatever you do, it's all good.
Words by Ros Jason